Large Enough to Serve You, But Small Enough to Care



OUR VETERINARY CARE CENTER
We are proud to provide a state-of-the-art pet hospital facility for the highest quality veterinary care available. We are confident that you will feel right at home in our office as we welcome all patients as if they were family. Our hospital is large enough to serve you, but small enough to care. We realize that parking at our clinic can be a challenge. We ask for your patience, courtesy, and understanding if parking is temporarily unavailable. It is OK to double park if you need to. There is also parking on Pacific Coast Highway, just in front of the Black Iris Flower Shop, on most days.
APPOINTMENTS

If you would like to make an appointment, please contact our office by phone or email. Our office facilitates all communications and appointments are available and welcome, especially for new patients seeking help. We also see emergency patients. These are evaluated immediately by the doctor or trained staff and a determination is made whether life saving intervention needs to take place right away or if the patient is stable enough to be able to wait. "Walk-ins" are discouraged, as we are usually fully booked during the work day. It facilitates our scheduling and patient flow if you are able to call ahead for an appointment. "Drop-off" appointments are always available, and we are open at 7:00AM weekdays to accommodate owners that need to get to work.

PARKING
Parking is always a challenge in Laguna Beach. We have 4 dedicated parking spaces behind our clinic on Hinkle Street. In addition, you can find additional parking from 9 AM to 4PM in the covered parking lot just 200 feet north at 2880 S. Coast Highway at the Andrade Architect Building. This parking structure has a low beam ceiling, so large trucks and Tesla vehicles with wing door openings will have issues there. Please be respectful of other individuals as a guest in this parking structure.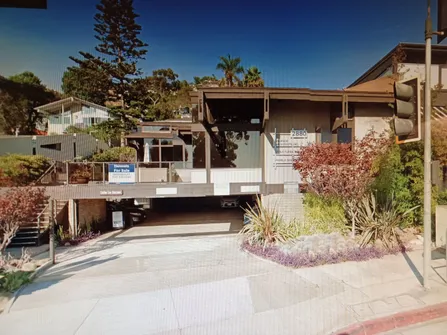 FINANCING

We will do everything we can to help you afford the treatment your pet needs. Forms of payment accepted by the office are check, cash, or any major credit card. We also now offer Care Credit Veterinary and Scratch Pay Financing.
For information about CareCredit and to get pre-approved for veterinary financing in about 5 minutes, go to www.carecredit.com/go/ZBV992/ There is no interest financing for the first 6 months.
ScratchPay no interest financing is also available. Sign up is quick and easy. www.scratchpay.com
PET INSURANCE
The cost of veterinary care is a huge bargain compared to what comparable services cost in human medicine. Still, pet owners are expected to pay for medical care "out of pocket" which can create unexpected financial burdens. We are a strong supporter of pet insurance, and believe all pet owners should consider pet insurance to help defray the cost of veterinary medical care.
CANCELLATION
If you are unable to keep an appointment, we ask that you kindly provide us with at least 24 hours notice. We ask for this advance notice so that we can offer this appointment to another patient. At any given time, we have at least 6 pet owners on a waiting list to be seen, so a "no show" severely impacts the care we are able to provide. There is often a very good reason why a pet owner cannot make a scheduled appointment (last minute illness, family emergency, car trouble) and fails to cancel. We have certainly been in that position ourselves. On the other hand, folks that confirm appointments and fail to show up with no valid excuse will be asked to pre-pay for future appointments. We are sorry that we have to insist on this, but there are pets in need that require our help and the only thing we have to offer is our time. When a pet owner schedules time with us and fails to respect that time, it tells us that particular individual does not value our time.


We would like to take this opportunity to thank you for choosing our facility for your veterinary care.